Jim Mettler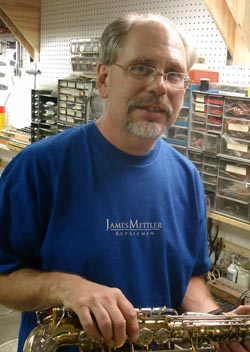 Jim was born in Redfield, South Dakota. He received his B.A. in Music Education from South Dakota State University at Brookings. After a frustrating year of teaching music to kids whose instruments were falling apart, Jim realized that his calling lay in instrument repair; so he traded his baton for a set of screwdrivers and headed back to school.
Upon completing the instrument repair program, at Western Iowa Tech, Jim set off for Los Angeles in 1980. Over the next five years, he worked as the in-house repair technician at several music stores; eventually setting up an independent shop, Jim's Musical Instrument Repair, based out of Gard's Music, where he served San Gabriel Valley musicians for over twenty years.
In 2009, Jim's Musical Instrument Repair relocated to San Dimas, where Jim and his associates proudly provide full-service woodwind, brass, and string instrument repair to musicians throughout Southern California. Jim has been a NAPBIRT member since 1989.
---
Jon Dickson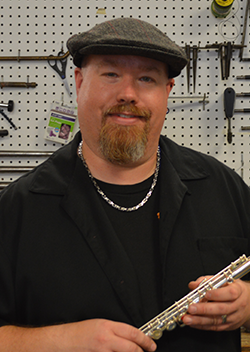 Jon was born locally and graduated Charter Oak High School in Covina, California. In 1997 he started teaching studio woodwind lessons at various music stores around the San Gabriel valley. Calling Gard's Music in Glendora his home base, he worked under Craig and Mary Durst, creating an impressive teaching experience for many musical students. During this time, he studied at Cal Poly Pomona and graduated with a B.A. in Music Education and Philosophy. After receiving his Master's in Philosophy from Cal State L.A., he became an apprentice in 2008 under the direction of Jim Mettler and extensively learned the art of musical instrument repair.  After 21 years of teaching lessons, he decided to repair full time at Jim's Musical Instrument Repair.
---
Tava Dickson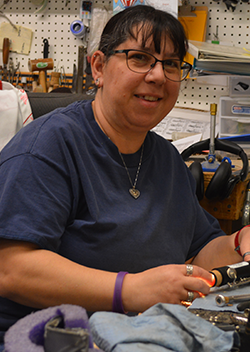 Tava was born in Michigan and her family moved to California in the late 70's.  She went to high school in Ontario then to Chaffey College where she finished with an AA.  She then traveled to Cal Poly Pomona where she earned her BA in Liberal Studies with an emphasis in Mathematics.  She was involved in music all of her junior, high school and college years, playing Clarinet and Alto Sax.  During college and after, she worked in retail at Target and IKEA.  She then decided to change career paths and was trained by Jim Mettler on Orchestral string and woodwind repairs at JMIR.